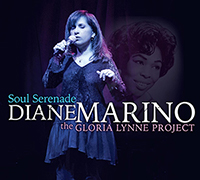 Soul Serenade (2018) Jazz vocalist Diane Marino presents an album of rarely heard and totally refreshing songs made popular by the great Jazz-Soul/Jazz vocalist Gloria Lynne. An eclectic group of creative arrangements and orchestrations along with stellar musical performances celebrate this wonderful and memorable material.

Loads of Love (2013) is the new CD release by pianist/vocalist Diane Marino, features legendary saxophonist Houston Person who produced the CD as well. Timeless vocal standards from the Great American Songbook, arranged by Diane Marino.

From The Heart  (2011) is a collection of specially selected songs from Diane's three critically acclaimed CD's. An eclectic blend of vocal and instrumental jazz featuring mainstream, Brazilian and Latin jazz at it's best, combined with creative and refreshing arrangements delivered in stellar performances by Diane's quartet and big band.
The CD also features guest artists Houston Person (playing tenor sax on "Then You Can Tell Me Goodbye" and Wycliffe Gordon (playing trombone on "Anyone Who Had A Heart").

Just Groovin' (2008): Great tunes from the 60's..A new "Smooth Jazz" take on such hits as Groovin', Walking In The Rain, Baby I'm Yours, Yes I'm Ready and 8 great others. 12 great tunes in all. Featuring extraordinary guest artists: Felix Cavaliere, Kirk Whalum, Houston Person, and Wycliffe Gordon
.

On The Street Where You Live (2004) is the eagerly anticipated second CD release by pianist/vocalist Diane Marino. Diane and her quartet perform innovative arrangements weaving together traditional jazz and Brazilian jazz vocals.

A Sleepin' Bee (2003) offers everything the Jazz aficionado could wish for and then some! Pianist/vocalist Diane Marino offers a broad brush of vocal and instrumental Jazz on this nationally acclaimed CD.
FEATURED VIDEOS
Diane Marino – "Loads of Love" -Live @ Vitello's Jazz club, L0s Angeles. CA
featuring Ricky Woodard (sax) Clayton Cameron (drums) Frank Marino (bass)
Special guest Harry Kim (trumpet)
******************************************************************************************
I am honored and happy to share with you this wonderful video compilation of various shows we have performed -produced by Toni Basanta for his TV production "Havana Fairfax Connection". Toni did a fantastic job in producing this 1 hour long show featuring some of our performances and also informative info about the players, composers, etc. Great job Toni!
View the video in its entirety here:
http://lcatv.org/Havana-fairfax-connection-0103