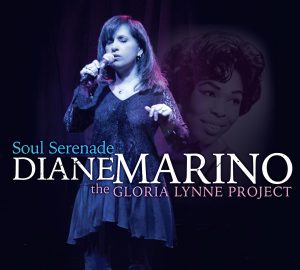 Listen now on Spotify
Listen now on Pandora
Listen now on  SoundCloud
Available Now at  Amazon 
Available Now on  i-tunes 
Available Now at  CD Baby
"Soul Serenade" is the title of my newest CD project. Although not exactly a "tribute" album, it is more of a celebration of the music made popular by the great vocalist, Gloria Lynne. As it turns out, I have been singing some of the material she has been known for ever since I first began to sing professionally- so many years ago! "I Wish You Love" is one of the first ballads I ever sang on a gig. "I'm Glad There Is You" is a track I recorded for my CD "On The Street Where You Live".
While performing on a recent gig with drummer Vince Ector, I sang "I'm Glad There Is You", and he reminded me it was one of Gloria's signature songs.
So, I began to research more of Gloria's work and was instantly mesmerized by her voice, style and emotion. Additionally, her choice of material was instantly appealing to me. I tend to look for songs that are "beyond the norm" of the Great American Songbook repertoire. The songs Gloria Lynne recorded during her career stand alone in their originality and uniqueness. Her performances of these particular tunes move me every time I hear them.
As with my previous CD's, I always learn a tune and then work with it at the piano, making it an extension of what I'm hearing and feeling from the lyric and melody. I should note that I had never heard any of these 14 tunes before I was introduced to them by the wonderful Gloria Lynne recordings. My "concepts" for these 14 tunes came about after much study, deliberation and changes!
I wanted to step away from the piano for this project in order to collaborate with someone else's ideas that could influence the way I might want to sing a particular song. I feel that when you accompany yourself on piano the two elements are inseparable and it was time to do a project in a different way.
I asked my dear friend Brad Cole to take my concepts and write the arrangements and orchestrations as well as to play piano/keyboards on this project. He seemed to know exactly what I wanted to do with each of these songs. I think we've come up with a fresh approach to this material that Gloria Lynne's recordings influenced me to explore and ultimately record!
Produced by BRAD COLE       Co-Produced by DOUG HOLMQUIST
Executive Producer FRANK MARINO
Arrangements and Orchestrations by BRAD COLE
Concept Arrangements by DIANE MARINO
…………………………………………………………………………………………………………………………………………………..
Interview by Simon Sargsyan  6/17/2018
Interview with Diane Marino: If the music is without soul, what's the point? Video
************************************************************************************
Recent Review Quotes for "Soul Serenade" – The Gloria Lynne Project
                                                             (Click  Here  For Full Reviews)
KJazz 88.1 Los Angeles – Bubba Jackson  9/2018
"Diane -I love your voice and I feel "what you put in a song" and your voice is like no other. Keep on singing- we need your voice and songs!"
allaboutjazz.com – C. Michael Bailey   6/17/2018
"Arranger Brad Cole provides Marino a lush and soft ground upon which to vocally travel. This sonic environment is best experienced on the opening "Somewhere in the Night" and "Blue Gardenia." The charm in this collection is that it is not made up of stone cold standards, rather it contains the interpretations of one fertile jazz mind re-interpreted by another."
jazzweekly.com – George Harris  6/2018
"Marino is sassy, upbeat on "Nothing Ever Changes My Love For You" and is soulful as she bops along Chris Brown's brushes on "For You." Stately and uptown."
actualjazz.blogspot.com  –  Leonardo Díaz  June 11, 2018
"Majestic and elegant…"
notesonjazz.blogspot.com – Ralph A. Miriello   3/17/2018
"A thoroughly enjoyable contemporary pop/jazz album from vocalist Diane Marino from "Soul Serenade: The Gloria Lynne Project" w/ some fine orchestrations and arrangements by Brad Cole."
Contemporary Fusion Reviews- Dick Metcalf, editor, March 8, 2018
"Diane's personal style provides the ultimate in cool for jazz listeners of all stripes.
Diane's sultry jazz vocal style that will transport you (in most pleasant fashion, I might add) to the edge of the galaxy… her pacing is pure perfection, and her tones are full of the energy of life… a superb jazz vocal that you will treasure for years to come."
Lemon Wire Dodie Miller-Gould March 13, 2018
"Marino manages to create jazz that is both fun and timeless. "Soul Serenade" is a collection of 14 songs that find Marino and her ensemble playing with a buoyant vibe and energy."
Susan Franceson – Blog Critics March 22, 2018 :Marino emblazons each track with her personal touch ***** 5 Stars
"A striking vocalist, Diane Marino chose songs that brought out the emotional depth of her register. Her inflections make lyrics stand out in the listener's mind. She expresses human emotion through the range of her timbres and the elasticity in her vocal nuances. Revisiting songs from Gloria Lynne's recordings prove to be a fine fit for Diane Marino."
5.0 out of 5 stars A celebration of the spirit of Gloria Lynne
By Grady Harp CD Review: Amazon   March 16,2018
"Reverie and remembrance for the art of Gloria Lynne sing through this collection – due to the inordinately beautiful performances by Diane Marino and ensemble. "
MIDWEST RECORD
By Chris Spector
3-13-18
" A jazzy vocal album that works throughout, Marino is fully ready to take flight on her own, especially if she plans on keeping it classy. Well done."
Musical Memoirs.com  by Dee Dee McNeil/Jazz Journalist March 12, 2018
"Diane Marino brings the vocal magic on ballads like "Blue Gardenia" and "Out of This World." "The Jazz in You" is produced as a sultry blues number and Marino steps up to the plate and hits a home run with this tune."
"The Cuban Bridge" wwpv.org Toni Basanta
"Dear Diane, your new album is a truly-talented-work-of-art and it deserves immediate recognition of all your peers and the International Jazz Community. SOUL SERENADE is the most delicious breakfast I've ever had !!!!!"
Bebop Spoken Here   3/21/18  Lance Liddle
"Marino wisely retains her own identity whilst conveying the feel of a Gloria Lynne performance. Which, in many ways, is the best of two worlds. Sultry, with just an edge of soul and blues and a lot of jazz. A great album that's made me aware of TWO great jazz vocalists."
Dennis Scott  Dennis Scott Productions  5.0 out of 5 stars
Diane Marino makes beautiful music even more beautiful    March 27, 2018
"Diane Marino's musical instincts have been crafted through experience and are fueled by a hunger to make music that makes a difference. She has done exactly that. It takes a singer to know a singer. Miss Marino makes the most of her vocal talents and, in doing so, pays creative homage to Miss Lynne.
The album is everything one hopes for – great songs, great players and great arrangements. Diane Marino may be one of jazz world's best kept secrets, but the secret is out now for all of us to enjoy""
The Vinyl Anachronist  April 4, 2018 Marc Phillips
"The musicians are downright flawless here, and settle in instinctively and provide a new energy from scratch on each track. But it's Marino's voice that slowly won me over.
Marino is focused, and she brings out the meaning of each song as few singers do"
Jersey Jazz for the May issue. By Joe Lang
"Marino is equally comfortable with ballads and faster tempo material, infusing many selections with a convincing blues feeling. Not having been aware of Marino before receiving this album to review, her work here makes seeking out her prior recordings a likely undertaking".
CD Headline Jazz & Easy Review- Diane Marino – Hook, Lynne & Sinker
 Paul Rigby-The Audiophile Man  16th April 2018
"Diane Marino retains her own style and approach to the songs, retaining her own direction but keeping the soul of Lynne present within each. This is a lively album with a fine selection of solos to keep the song lively and infused with variety. A joyful listening experience and a fine release for Marino."
www.framemusic.net   By: Kev Rowland   May 11, 2018
"An incredibly warm and velvety jazz album…Diane's superb vocals, the arrangements and musicians have all combined to create something that hearkens back to times gone past, in a very special way indeed."
www.jwvibe.com  By: Jonathan Widran   May 14, 2018
"Stylistically, Marino romps between traditional jazz, swing, edgy blues and sensual soul, with moments of intense barn burning tempered by hushed intimacy. The magic here takes flight on the stellar arrangements and lush orchestrations of Brad Cole, who also plays piano, keyboards and B-3 organ."